Hello Guys,
Today i am going to tell you that how you can fix your facebook disabled account. If your account is showing that "Your Account Has Been Disabled" everytime when you try to login. This page show just because your facebook account was disabled for valid reasons.
Why My Facebook Account Disabled?
Facebook disabald your account for valid reasons. First of all note that Facebook team doesn't disable any account without any reason. If Facebook team disabled your account, So there must be have some reasons. The first reason can be You violated facebook guidelines. Facebook team are so strick about their guidelines.
They don't support any type activity which goes against to their guidelines. You should always Follow facebook Guidelines. Then your account will not disabled again. So lets talk about thatbif your account is disabled now, Then how you can recover your facebook disabled account. there are also many ways to recover your facebook account.
If your Facebook account has been disabled, you'll see a message saying your account is disabled when you try to log in. If you don't see a disabled message when you try to log in, you might be having a different login problem.
We disable Facebook accounts that might not follow the Facebook Terms. Some examples include:
Posting content that doesn't follow the Facebook Terms.

Using a fake name.

Impersonating someone.

Continuing behavior that's not allowed on Facebook and goes against our Community Standards.

Contacting other people for the purpose of harassment, advertising, promoting, or other conduct that's not allowed.
How To Recover Facebook Disabled Account?
1. Visit Facebook's account appeal form and fill in the required details. Facebook asks for your login email address or phone number, full name, and your ID for verification. Facebook accepts both government and non-government IDs. Check out a list of all supported IDs via the link right here.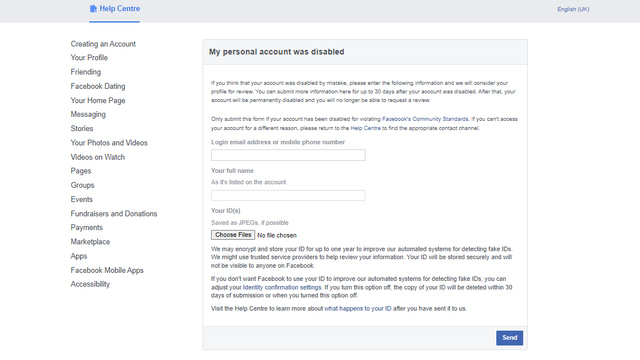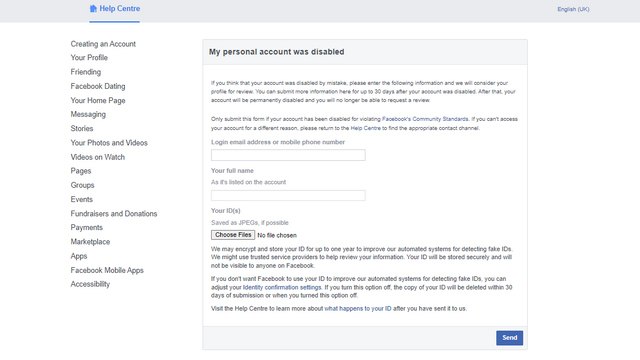 2. After uploading all the details, click on "Send" to submit the appeal. Facebook will then review your appeal. The company will allow access to your account if it is convinced that your account got accidentally disabled. Furthermore, the social media company might contact you for more information as part of the review process.
If you previously disabled or permanently delete your Facebook account, you can still recover it as long as it is within the 30-day recovery window. Here's how to reactivate a Facebook account you disabled:
1. The process to recover a Facebook account you disabled is as straightforward as signing in with your login credentials. Visit Facebook's website and sign in with your username and password. If you temporarily disabled your account, logging in will enable your account, and you can start using the platform.
Additional Info For Appeal
Copy texts From below and paste it on your additional info box.
Hello Facebook Team,




My account was disabled some days ago. I have many important pictures and massages in my account. I need my account at any cost. I am also facing many problems with my family and personal reasons just because of facebook account was disabled. You please again activate my account, its a request. I am providing my identification so you can verify and reopen my facebook account.

Name:

email: